東急歌舞伎町タワー FIRST STAGE
April, 2023
東急歌舞伎町タワーは、2023年4月14日にオープンした国内最大級のホテル × エンタメ施設複合タワーです。コンセプトは「 "好きを極める"場の創出」。 THINK AND SENSEは、本施設2階のエンターテインメントフードホール内のステージ設備における演出設計とその開発・実装を行いました。
The Tokyu Kabukicho Tower, which opened on April 14th, 2023, is a Japan's largest hotel and entertainment facility complex tower. The concept is "Creation of a place that is extremely fond of favorite". THINK AND SENSE was responsible for the visual design, programming, and implementation of the stage equipment in the entertainment food hall on the second floor of the facility.
Visual Generation
3面サイネージでは、ブランドヴィジュアルから発展させたモーションを表現しました。タワーとの調和を重視したコンセプトで、くつろぎや安らぎ、連帯感、賑やかさを感じる動きを、4つのモーションパターンに落とし込みました。ヴィジュアルは歌舞伎町タワーのブランドヴィジュアルをベースにパーティクルを放ち、音のビジュアライザーという要素に加え、噴水の安らかなイメージを目指しました。
ステージ床のLED演出に関しては、イベント利用時の盛り上がりを目指し、素早く色が変わりながら、流れる高揚感のある雰囲気を演出しました。色もグラデーションと単色をリアルタイムで変更できるようになっており、両方のパレットの中間の色を出力するなど細やかな演出が可能です。
For the 3-sided signage, we developed motion graphics based on the Kabukicho Tower brand visual. With a focus on harmony with the building, we created four motion patterns that convey a sense of relaxation, peacefulness, unity, and entertainment.The visual motion design is based on the Kabukicho Tower logo, with particle effects also incorporated to create a sound visualizer motif. The overall aim was to evoke a sense of tranquility, similar to that of a peaceful water fountain.
For the LED lighting of the stage floor, we aimed to create an atmosphere of excitement and upliftment during events by using rapidly changing colors to create a sense of flowing exhilaration. The colors, including gradients and solid colors, can be changed in real-time, allowing for intricate lighting effects such as outputting colors that are in between the two color palettes.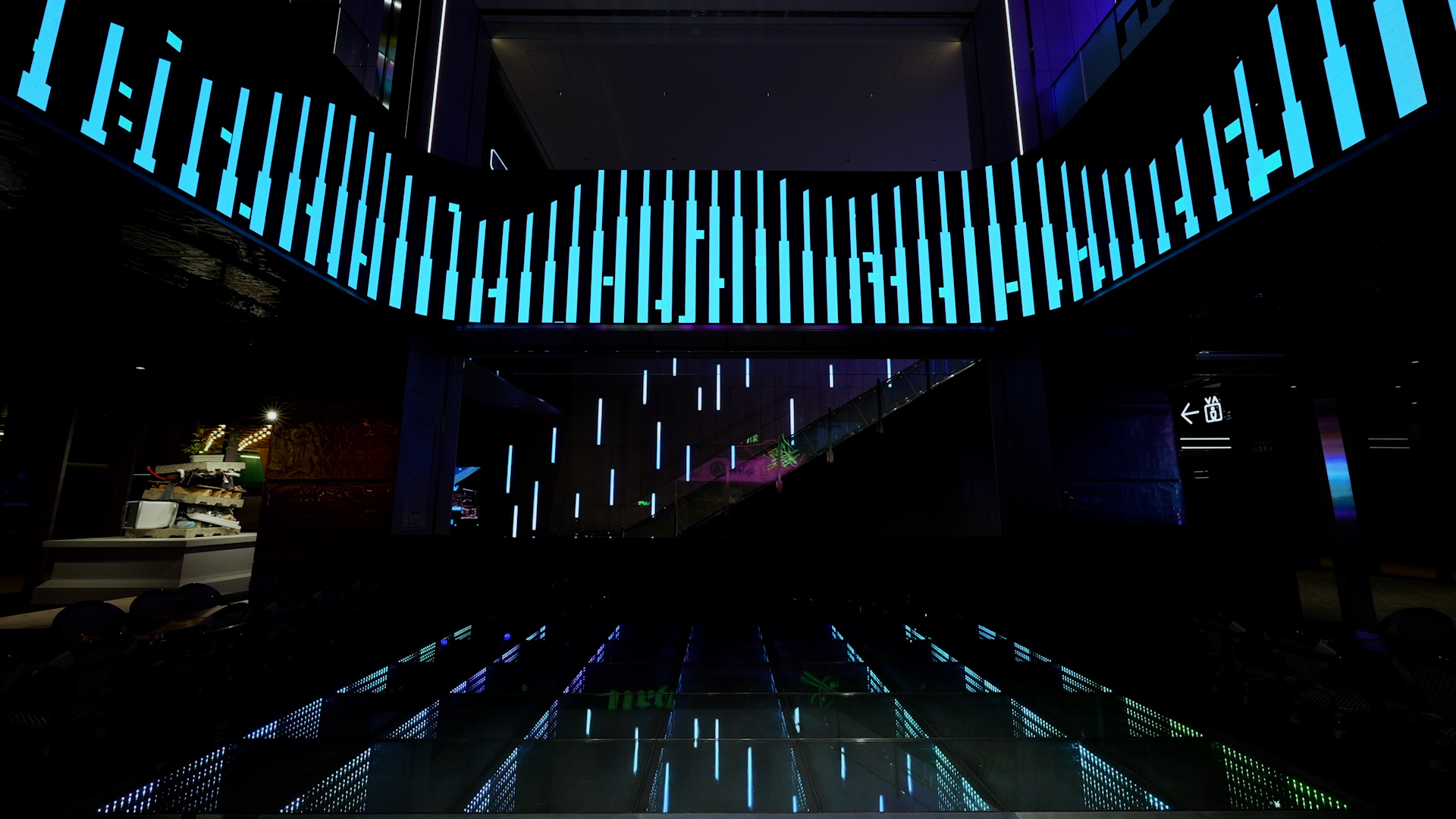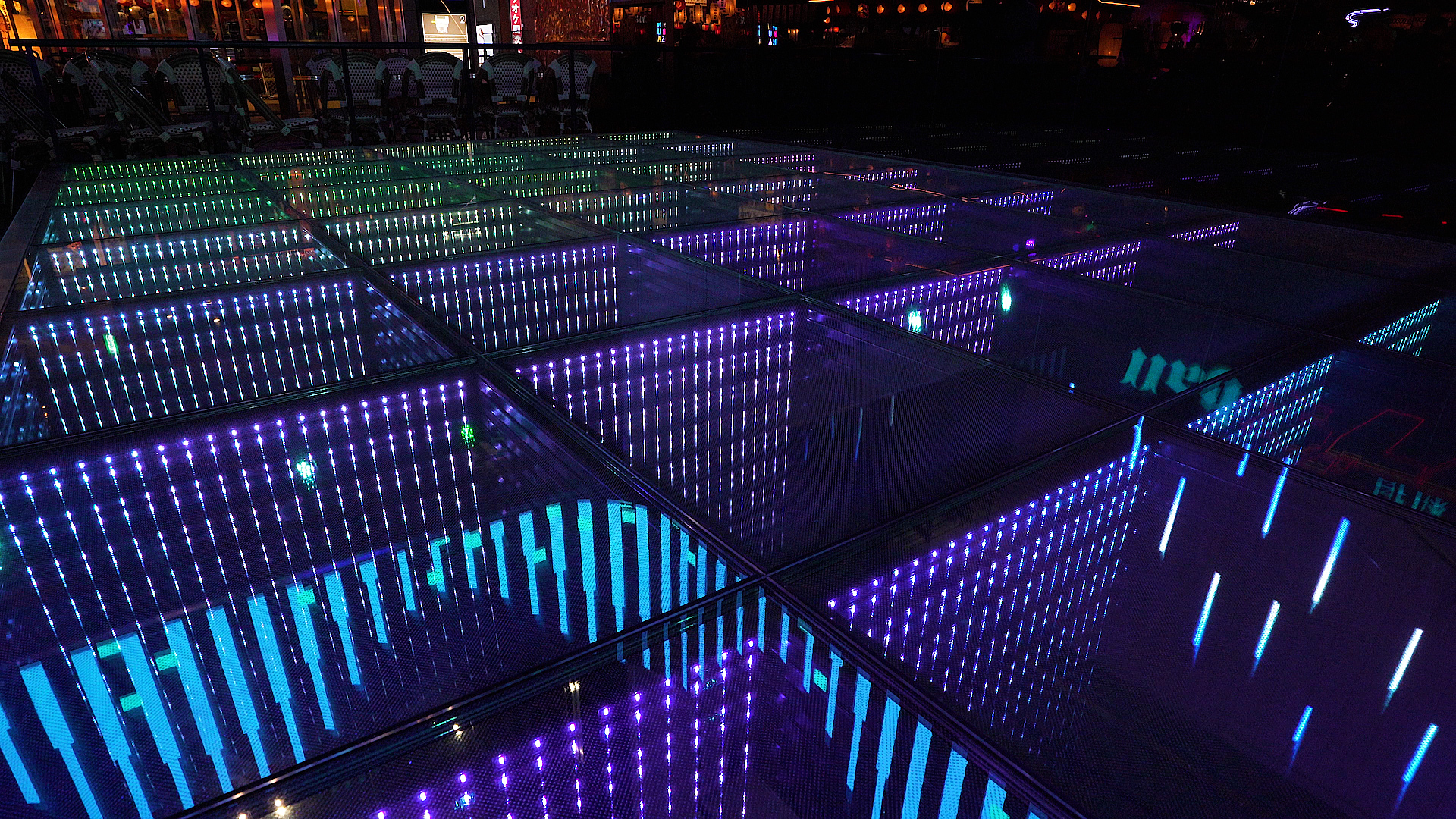 Workflow and Technical details
THINK AND SENSEが提供するメディアコントロールシステムAmbience上で、ビジュアルデザインフェーズで決まった、ブランドイメージから発展した動きのパターンを忠実に分かり易く表現することがミッションでした。周囲のモデル環境を含めた3Dシミュレーターを構築することで、より実際の見た目に近いシミュレーションを実現しました。
3面サイネージでは、波形を生成する機能を用いて、ブランドロゴのパーツを波立たたせるアニメーションを制作しました。1分で4パターンを一周する仕組みになっており、色も周期的に変化します。ステージ床のLED演出とライト演出では、シェーダーを用いて映像パターンを作成、それをLEDの位置に色を当てはめています。
Our mission was to faithfully and clearly express the motion patterns developed from the brand image defined in the visual design phase on our Ambience media control system provided by THINK AND SENSE.We created a 3D simulator that includes models of the surrounding environment to achieve a more realistic simulation.
For the 3-sided signage, we used a wave generator function to create an animation of the brand logo's parts with a rippling effect. The animation has four patterns that complete one cycle in one minute, and the colors also change periodically. As for the LED on the stage floor and par light effects, we created visual patterns using shaders and mapped the colors to the positions of the LEDs.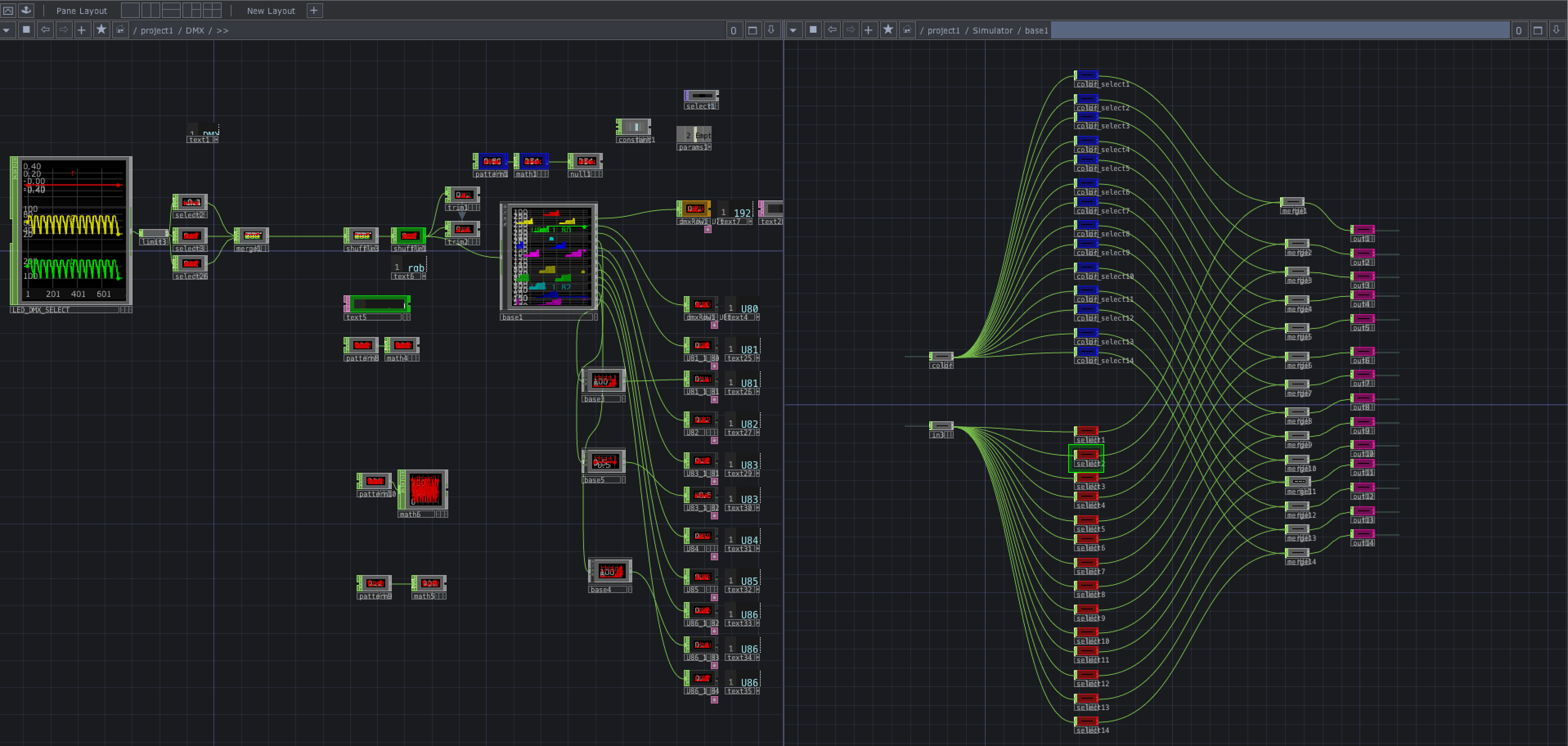 Operation
Ambienceでは、3面サイネージ、ステージ床のLED演出、ライト演出の3つを、一括でコントロールできるようにシステムを組み上げました。UIを分割し、現場スタッフがそれぞれのタブで色やパターンを選択できるようにすることで、様々なイベント演出に適応が可能です。
LEDやライトの演出パターンは、今後も追加ができ、ニーズに応じて拡張出来る仕様に設定しています。イベントやパフォーマンス毎の、オリジナル演出も可能です。
また、3面サイネージには館内の案内や広告を、3枚それぞれのサイネージに当てはめられるPicture In Picture機能を実装しており、通常の映像との切り替えも、Ambience上でワンクリックで行えるようになっています。
In Ambience, we constructed a system that enables us to control the 3-sided signage, LED lighting on the stage floor, and par lighting all together. We divided the UI so that the on-site staff can choose colors and patterns for each component in their respective tabs, making it adaptable for various event productions.
The LED and lighting effects can be expanded in response to demand and new patterns can be added in the future. It is also possible to create original effects for each event and performance.
Furthermore, the 3-sided signage is equipped with a Picture in Picture function that allows building announcements and advertisements to be displayed on three separate screens. This feature can be easily toggled between the normal visual with just one click within the Ambience system.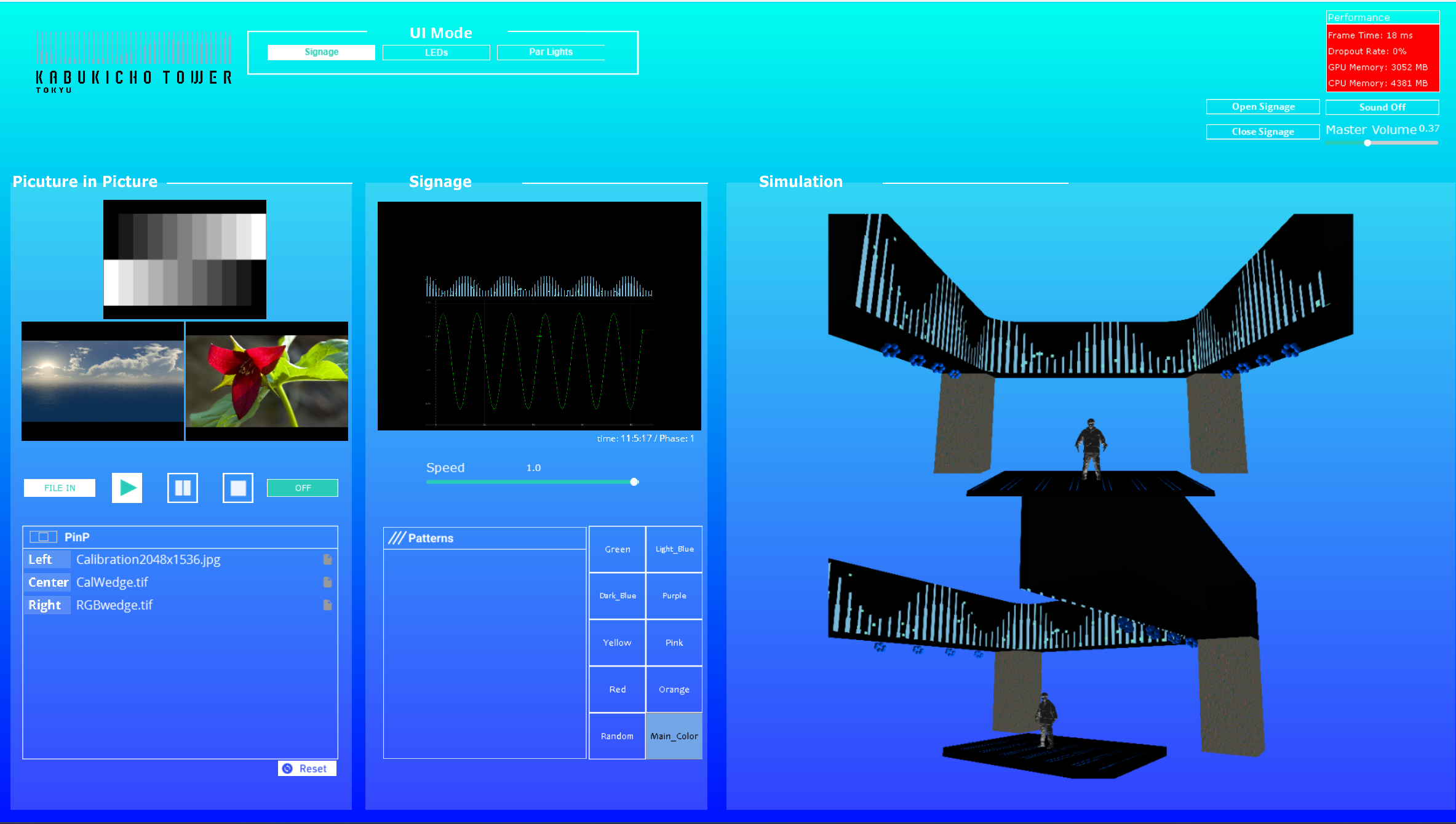 Credit
Technical Director:Shuhei Matsuyama Production Manager:Takumi Ito Exhibition Planning:Naoya Takebe Application Programmer,Visual Programmer:Yonsan Kim